Cisco Support from Warranty World
Warranty World delivers Cisco support through the Cisco Services Partner Program (CSPP) which means we are able to deliver all of the support options available through Cisco branded services such as Cisco SMARTnet alongside our own Cisco support to deliver a feature rich support proposition. With savings of up to 60% compared to Cisco SMARTnet, customers also benefit from a vast pool of Cisco specialists ranging from CCNA qualified up to CCIE technology specialists who have expertise in areas such as Security, Wireless, Routing & Switching, UCS, Data Centre, Unified Communications and Voice.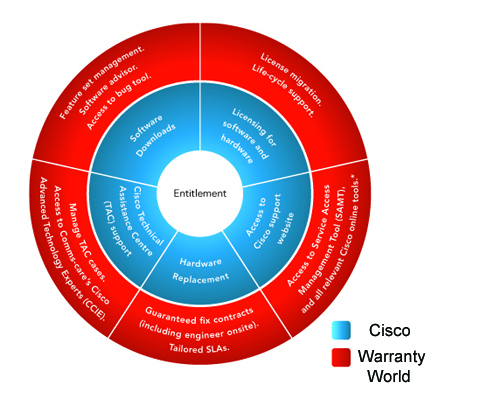 Warranty World Added Value
Warranty World's Cisco Support offers customers all of the Cisco SMARTnet options they have received direct with Cisco as well as support cover tailored to the specific requirements of our customers, all underpinned by Cisco's software services.
Where Warranty World really can differentiate itself is by providing a 'Guaranteed fix' support contract through its onsite Cisco certified field engineers to install replacement parts at our customer's location. Through this onsite service option, a field engineer implements Cisco technology expertise and practices to help ensure that our customers' network operates at the highest levels. What also makes Warranty World unique is the way in which it has incorporated any future rebates into up-front costs, meaning customers benefit from the best possible price immediately, and don't have to manage complex contractual information to work out post-contract rebates.
We understand that many network infrastructures have a number of vendors' products connected to them. As a multi-vendor service provider, we are able to add these products to a Cisco estate under a single SLA contract, ensuring the efficient operation of our customers' networks.
https://www.warrantyworld.co.uk/wp-content/uploads/2018/04/Warranty_World_Full_Logo_Low_Res.png
0
0
James Cannon
https://www.warrantyworld.co.uk/wp-content/uploads/2018/04/Warranty_World_Full_Logo_Low_Res.png
James Cannon
2021-02-09 13:50:00
2021-05-15 13:27:07
Why choose Warranty World for Cisco Support vs Cisco SMARTnet?